[ad_1]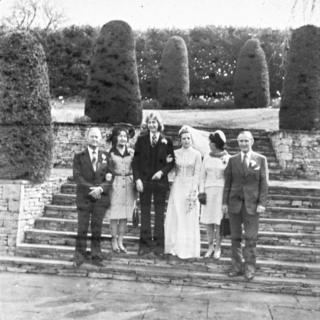 Image copyright
Alex Galmeanu
Image caption

The wedding photos were found inside a camera Mr Galmeanu bought online

The hotel at the centre of a search for a mystery couple whose wedding photographs were found in an old camera has been identified.
Dozens of people contacted the BBC to suggest where the photos were taken, including several who identified the Burleigh Court Hotel, Gloucestershire.
Romanian Alex Galmeanu discovered the images on undeveloped film inside a camera he bought online.
Mr Galmeanu originally believed the wedding had taken place in Scotland.
One of the cars in the images is thought to have been first registered in the Stirling area in the 1970s.
But the general manager of the Burleigh Court Hotel, Christine Read, said the group shot was "definitely" taken on the hotel's back terrace, but said she could not identify the people in the photograph.
The hotel, near Stroud, has changed owners three times since 1979.
Ms Read, who joined the hotel staff in 1980, told BBC Scotland she knew it was her hotel "without a shadow of a doubt".
"As soon as I saw the first picture with the trees I knew. And then the second photo has the lodge at the end of our drive," she said.
However, the identity of the people in the photographs remains a mystery.
Professional fashion photographer Mr Galmeanu, who discovered the images last week, has posted them online in the hope of returning the originals to the couple or a relative.
Writing on his blog, Mr Galmeanu said he found the film inside a Balda Baldix camera he bought from an online seller near Birmingham.
He told the BBC's Good Morning Scotland programme that the car in the photos was probably an Austin Maxi.
He added: "The biggest clue is one of the cars involved in the wedding. It's decorated in such a manner and has a very visible plate number. If you search for the plate number it will come up as being registered first somewhere between 73 and 74.
"The second clue is in the film and developing process. The film is an old one. It was produced by Kodak until 74 and the process, which is named C22, is an old laboratory process and went on until 74. So this must be either 73 or 74."
Mr Galmeanu had guessed the pictures revealed a "discreet, low profile wedding" in a small town or rural area in the UK.
At the end of his blog he said: "Obviously, a happy end will complete this beautiful story.
"Your help is needed to share this to all your British friends.
"Who knows, maybe someone will hopefully recognise his/her family, and I'll have the opportunity to return these images to those entitled to receive them."
Do you recognise the people in the photographs? Email us at [email protected]
[ad_2]