[ad_1]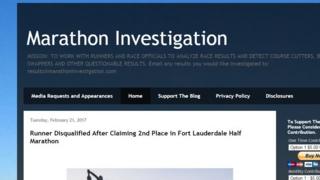 Fitness tracker data has helped to catch out a prominent food blogger who cheated while running a half-marathon.
Digital detective work revealed Jane Seo had missed out 1.5 miles of the 13.1 mile course of the Fort Lauderdale race.
It also showed she tried to cover up the deception by using data gathered by riding a bike round the course.
After being exposed, Ms Seo posted an apology to her Instagram page over her conduct, saying she was an "idiot".
Watching time
Ms Seo, who regularly blogs about food for the Huffington Post, has now been disqualified for cutting the course.
If her time of 1 hour 21 minutes had stood, she would have come second out of the 4,000 runners that took part.
The analysis of the race data was carried out by Derek Murphy, a business analyst, who, in his spare time, runs the Marathon Investigation website that seeks to expose racing cheats.
In his analysis, Mr Murphy said his suspicions had been aroused because Ms Seo had run the second half of the race substantially faster than the first six miles.
Typically, he said, runners of endurance events slowed down as fatigue took its toll.
Also key was a photo showing Ms Seo with her finishing medal, which revealed she had worn a GPS watch to track her progress around the course.
Mr Murphy bought a copy of the photo, and when he zoomed in on the watch found it showed she had run only 11.65 miles.
Mr Murphy also analysed data Ms Seo had posted to the fitness tracking site Strava later on the day of the race.
Initially, Ms Seo claimed this vindicated her claim to have completed the course.
But Mr Murphy found the data had been submitted hours after the race and the character of the data suggested it had been generated by riding a bike.
When Mr Murphy confronted Ms Seo with his findings, she posted an apology to her Instagram account.
In it she said she had made a "horrible choice" and her actions had left her "ashamed".
Ms Seo has now deleted her Instagram account.
It is not clear why Ms Seo decided to miss out some parts of the Florida race course.
However, some runners have been known to cheat because posting a fast time helps them gain entry to more prestigious races.
"This is yet another case of a runner making bad decisions," wrote Mr Murphy.
[ad_2]

Source link