[ad_1]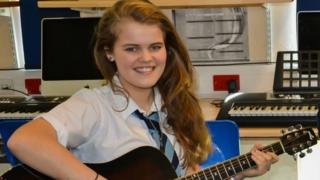 A teenager who had rarely left her home county of Cornwall has become a global sensation after her YouTube video went viral.
Daisy Clark, 18, from Newquay, received critical acclaim online when she made a cover of the song Hopelessly Devoted to You from the musical Grease.
The singer said she almost did not post the video due to "rude comments" she had received online about her weight.
The video has received almost six million views on social media.
Record label Warner Music Group released the song on Friday.
For more on Daisy Clark plus more Devon and Cornwall news.
"It's so exciting that someone like me, from a tiny town miles away from London, can release such an iconic song after being spotted online," Daisy said.
"I hope it will inspire other musicians around the country to keep trying, and not let small town mentality or negativity get them down."
The young performer said negative comments she had received before about her weight made her doubt whether posting the song would be a good idea.
"Social media is pretty vicious sometimes," she sad.
"You have to expect that there is always going to be some rude comments
"It did give me doubts, especially with Hopelessly Devoted To You. I just didn't let the comments stop me from doing what I love."
[ad_2]

Source link